OVERVIEW
Grace and peace to you in the name of our Lord and Savior Jesus Christ! Annually the women of Union Memorial come together between the months of April, May and June to focus on their role in the life of the church and who God is in their lives. This year marks our triumphant return to an in-person celebration of deepening our faith, strengthening the bonds of sisterhood across the generations, and meeting our fundraising goal to elevate our ministry to another level. Our theme is Still Spirited Women: Free to Live Victoriously with scriptural reference from Deuteronomy 20:4.
There is much work to be done and we are excited to have you on the team! As you can see, we still have a need for Coordinators and committee members for some activities, so we ask that you reach out to others to fill these events/activities. We are and will persevere, remain steadfastness in doing something despite difficulty or delay. So, let's get to work! We will make memories, reach out, reach in, testify and share our testimonies. Looking forward to fellowship, worship and socializing together during Women's Season 2022 at Union Memorial United Methodist Church.
We can be reached at Sharon Grant, or (443) 802-2894 and Veronica Tubman, or (410) 245-6555. Thank you all! Remember "Grab what you have and do what you can!".
In His Service,
Sharon Grant & Veronica Tubman, Co-Chair
WORSHIP EXPERIENCES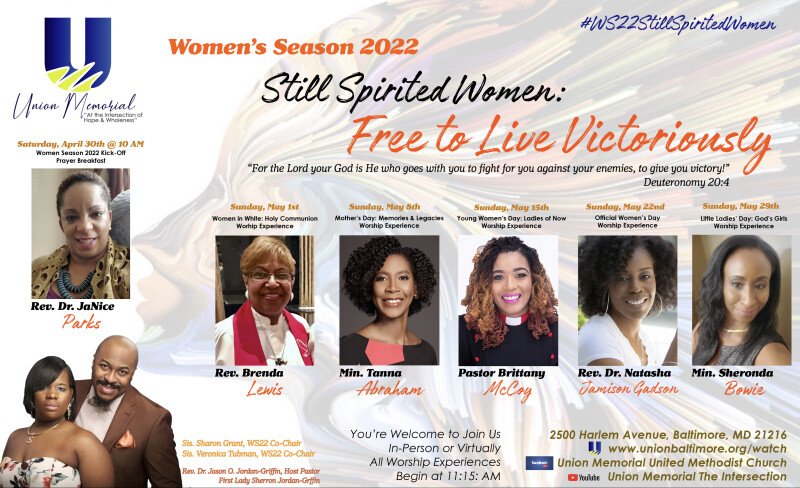 We are excited about the mighty move of God that will take place each week during our worship experiences. We kick-off the season of powerful preaching and teaching during our annual Prayer Breakfast, which returns to being in person this year since the pandemic began back in 2020. We then return to our sanctuary to lift up the name of Jesus through song, dance, poetry and the preached Word from the anointed women who will be gracing the sacred desk each week. Don't miss the opportunity to be empowered and bring your sisters along for the journey. You can enjoy these transformative moments LIVE or virtually, but whichever way the spirit leads you to participate, make sure you show up!

ACTIVITIES AND EVENTS
The ladies of Union have worked to put together some amazing events to build the bonds of sisterhood and to help us reach our financial goal (see below). Most of us have been indoors the larger part of the past two years. As the pandemic begins to trend in a much safer direction, we encourage you to come on out and reconnect to the outside world. You can do this by getting warmed up amidst the lingering effects of winter's chill with our Soup-to-Go, in a healthy way through our Victorious Family Fun Walk, being a real Baltimorean and grabbing a "chicken box" and our signature "Intersection half-n-half" at our Wings-n-Things, having some girl time with a handful of your best girlfriends during our Ladies Night In and donning your favorite hat and gloves taking in and sipping on some chai, oolong or green tea at our annual Afternoon Tea. There are plenty of opportunities to get involved even if you can't leave the house...check out our Daily May Activities Calendar above. Don't just do one...you can do them all! Click the links above or on the side panel for more details, to register, to place your orders or get tickets respectively.
FUNDRAISERS
Women's Season has been charged with raising $30,000.00. This is a task that can and will be accomplished with God's help! Start by choosing your Level of Giving. Our Financial Co-Chairs are Rosie Elvoid, Sara Smalley, and Cynthia Winkler will be available following morning service to accept your pledge. We are encouraging the Women of Union to be challenged to pledging and encouraging others to do the same. When all has been finalized, please post our events on social media, text, emails and spread the word about all our events. Help us sell tickets! Additionally, don't forget to solicit ads and reach out to your friends, associates, coworkers, neighbors, and family members to be patrons, as we build our Souvenir Journal. Payments for ads and patrons are due Sunday, May 15, 2022. We need help from each member of Union to realize the financial goal. Deadline for pledge payments is 9/30/2022.
Levels of Giving
Radiant Red: $1,000
Opulent Orange: $500-$999
SONBurst Yellow: $300-$499
Glorious Green: Pledge up to $299
Vivid Violet: Young adults and Youth (any amount)
Brilliant Blue: Men (asking for support in the amount of $125)